Sunday School (Bible Study) for all ages at 9:45am.
Sunday Morning Worship Service on Sundays at 11:00am.  Current 'Verse-by-Verse' sermon series:  "Acts"  of the Holy Spirit through the Apostles
Children's Church is provided during the Sunday morning service.  This is for all children entering/attending 1st-5th Grade. (Kids dismissed after the Offertory and prior to the Sermon during the Morning Worship Service.)
Nursery classroom provided during the Sunday morning service.  This is for babies-2 yrs.
Preschool classroom provided during the Sunday morning service.  This is for 3yrs-5yrs.
Evening Worship Service at the Providence Long Term Care, located at the north side of the Providence Hospital, on Sundays at 4:30pm
'Walking the Walk'  exercise group – using the Leslie Sansone's "Walk Away the Pounds" DVD.  Mon, Wed, Fri at 2:00pm.
"Moms in Prayer International" – Tuesdays at 2:30pm.
Wednesdays – Fellowship Meal at 6:00pm  (suggested donation $3 per person/$10 per family).
Wednesdays –  Children "Kids for Christ", Youth Group, Nursery at 6:30pm.
Wednesday evening  Bible Study & Prayer (adults)  at 6:30pm .  New study: "Jeremiah" begins Wednesday, January 22.
Wednesdays – Choir Practice at 7:30pm.
Bell Choir Practice – Saturdays at 10:00am.
"Pray and Go" – Prayer Walking throughout our community continues.  Grab a handful of FBC door hangers, and select a few streets or neighborhood to pray for, and get out there.  We want to pray for every household in Valdez.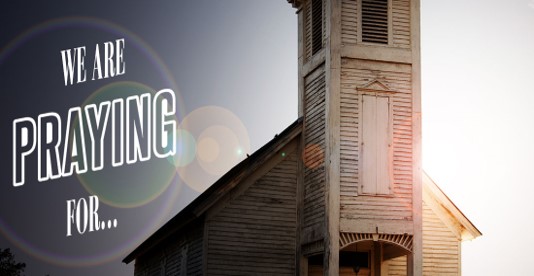 Intercessory Prayer time – last Sunday of the month during the morning worship service at 11:00am
Intercessory Prayer Meeting – 2nd & 4th Sunday evening at 6:30pm.
Men's Breakfast – 2nd Saturday of each month at 9:00am.  Schedule:  Feb. 8, Mar. 14, Apr. 11, May 9
"MOPS" (Mothers of Preschoolers) meetings monthly at 9:00am.  Schedule:    Feb. 7, Mar. 6, Apr. 3, Apr. 24.
Ladies Bible Study  new study, "Finding God Faithful" by Kelly Minter begins Tuesday, January 21.  10:00am at the church and repeated at Davette's house at 7:00pm
New Member Orientation – Saturday, January 25 at 10:00am. This is for all that are wishing to know more about the church and how to become a member of First Baptist Church.  Lunch will be provided.
Super Bowl Fellowship – Sunday, February 2 at 2:30pm at the Bradleys.  Please bring snacks/sodas to share.
ABC Evangelism Conference – February 3-4 at University Baptist Church in Anchorage.
Valentines Dinner – Wednesday, February 12 at 6:00pm